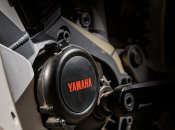 SPEED BOX connect the sensor speed sensor and rear wheel control unit electric bike remaining connector connects to the leading lights and you are done.

If you do not turn on the lights, everything works as before, which is suitable for driving on the road. Once you activate the light starts SPEED BOX, which fools the control unit and the display will show the half-speed, therefore speed box works to a speed of 50 km / h. This adjustment can only be used off-road.

The device is equipped with original connectors, which facilitate quick assembly and eventual disassembly.

video Instructions

For engine YAMAHA lights are always on even if they are not connected and therefore may not be activated as in the case of BOSCH.

If you buy SEED BOX directly at our company, installation will perform FREE!!!
SpeedBox for Yamaha PW: 139 EUR
SpeedBox for Yamaha PW-X: 179 EUR

Order by e-mail: info@sb-tuning.com